When you need to find a suitable course for your business, it is easy to spend hours and hours studying all of the latest bespoke systems and training packages to find a ready-made course that is perfect for your business. You may even find one course that requires just a little 'tweaking' and consider hiring the skills of a developer to do just that. But sometimes these systems are more limiting than you may realise and they can often require a lot more tweaking to make it work.
Read more: How to Define Learning Objectives for Developing Custom eLearning Content
Online learning is definitely the way forward and has taken over much of the old-style chalk and talk training sessions. While both have advantages, the beauty of online training resources is that you can free up employees as and when the business schedule dictates as well as having the benefit of the employee remaining on the business premises. But if you can't find an exact fit for your training needs, what do you do?
This is where an eLearning authoring tool can be useful for simpler course creation. Quite simply, an authoring system is a program. It will have elements which are pre-programmed ready to develop multimedia files. In a nutshell, authoring systems are designated software resources that allow a non programmer to create specific and sometimes high level software that is complete with programmable features. This opens up the opportunity for any computer savvy person to be able to create an imaginative training package without having a great deal of experience. The internal programming features are non-intrusive, but certainly allow for many training tools to be utilized.
An authoring tool can be used in a number of ways but they are typically used to create eLearning modules and these modules should be written to conform to international standards (SCORM) which simply means, Shareable Content Object Reference Model. Even though eLearning authoring tools can make for much simpler course creation, it is important to understand how they work and which of the authoring tools/systems are right for you.
Read more: Education and modern technologies, their positive and negative impact
As with anything, careful research is required. There are free authoring tools as well as paid for versions and your choice will depend on the level of intricacy and complexities of any course as well as on your budget. You also need to consider support options which might be utilized more in the first days prior to signing on the dotted line.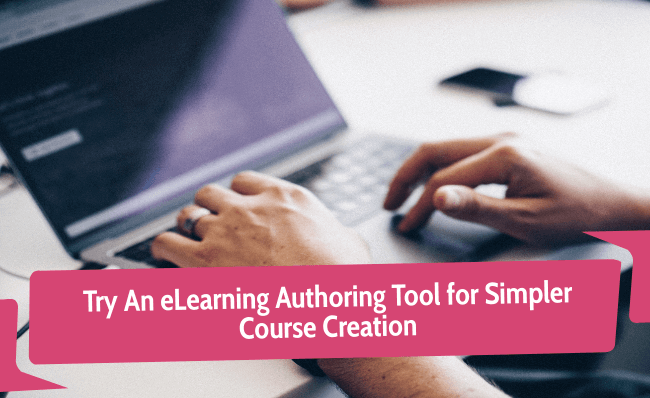 The days of talk and chalk training have become a thing of the past because eLearning offers exceptional quality and the building blocks of time-saving, financially responsive and employee-friendly courses. In fact, eLearning provides the resources for many people who have typically had very limited access to learning. So although the content is vital, it is wise to also remember the aesthetics of any new training programme. These days visual systems help to keep the learner motivated, something that is quite important. Think about the type of course that is required and what tools would be the most useful to help engage the employee who will be accessing and working through the course modules.
Read more: Why Technology is Important for Business Marketing
There are many benefits to eLearning and anyone who wishes to learn to the author should consider the needs of the company as a priority, the existing employees, learning styles, current resources and training factored time parameters. This is a powerful opportunity to take any given topic and to utilize modern technology to breathe new life into an old training issue. While research and client feedback are vital, you should also look at the ease of use, simplicity as regards the user interface while providing an inner collection of powerful authoring tools that can make any system development dynamic and relevant.